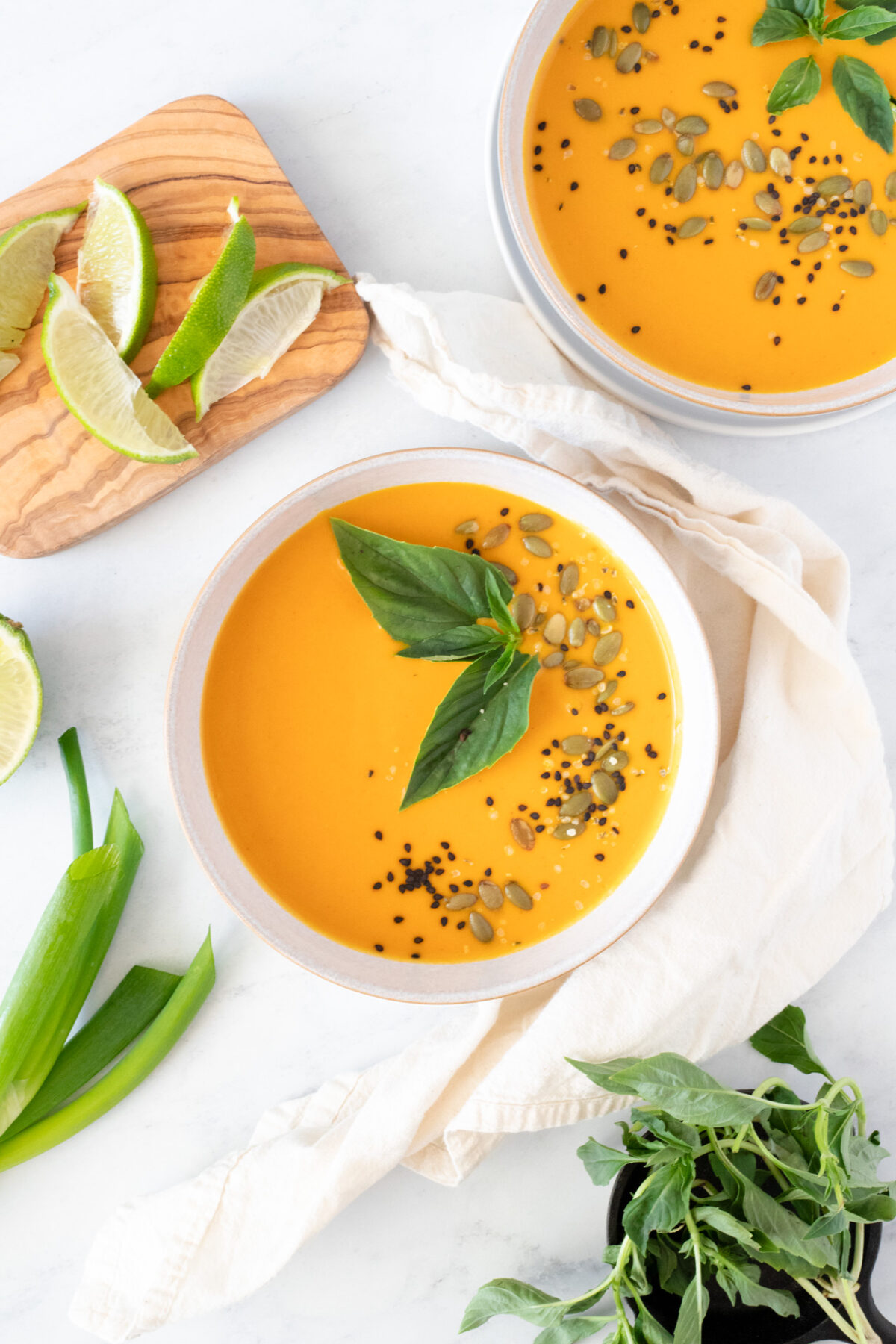 Roasted Butternut Squash Coconut Curry Soup
Roasted Butternut Squash Coconut Curry Soup
Butternut squash is one of the best-known winter squash varieties, and for good reason. With its versatile buttery texture and sweet nutty flavour it brings warmth and hardiness to any fall or winter dish, including this Roasted Butternut Squash Coconut Curry Soup.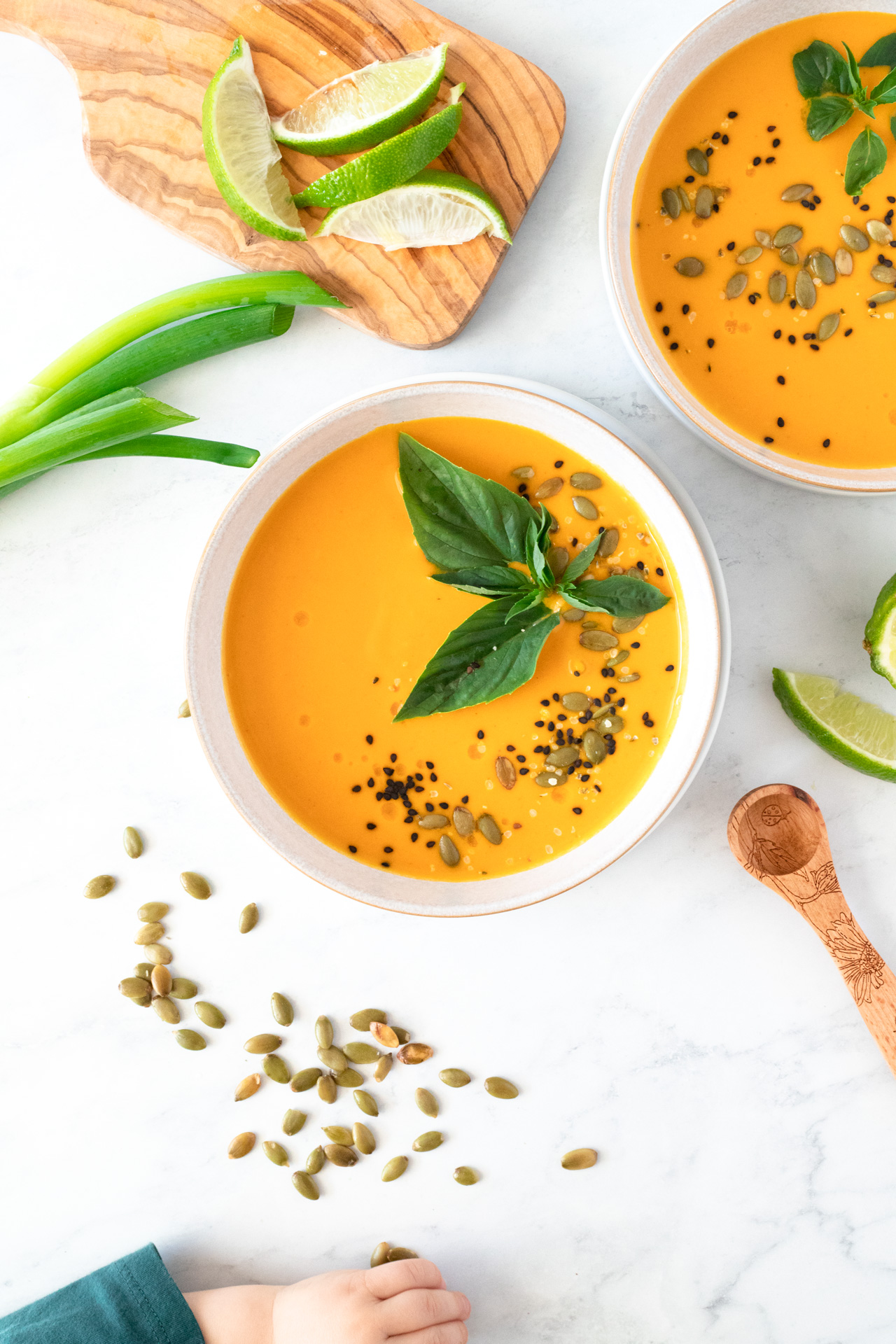 How much salt should I add?

My savoury recipes always call for "salt to taste" because everyone has individual health needs when it comes to salt intake.
It's also important to take into consideration the amount of salt already included in other ingredients used in a dish. For example, the brand of curry paste you use in this butternut squash soup may already contain salt — same with vegetable broth, coconut milk etc. I recommend reading the ingredient label of these products to see how much salt they contain and adjust accordingly. I like to purchase products (or make my own) with zero or minimal salt so that I know exactly how much I'm adding to a dish.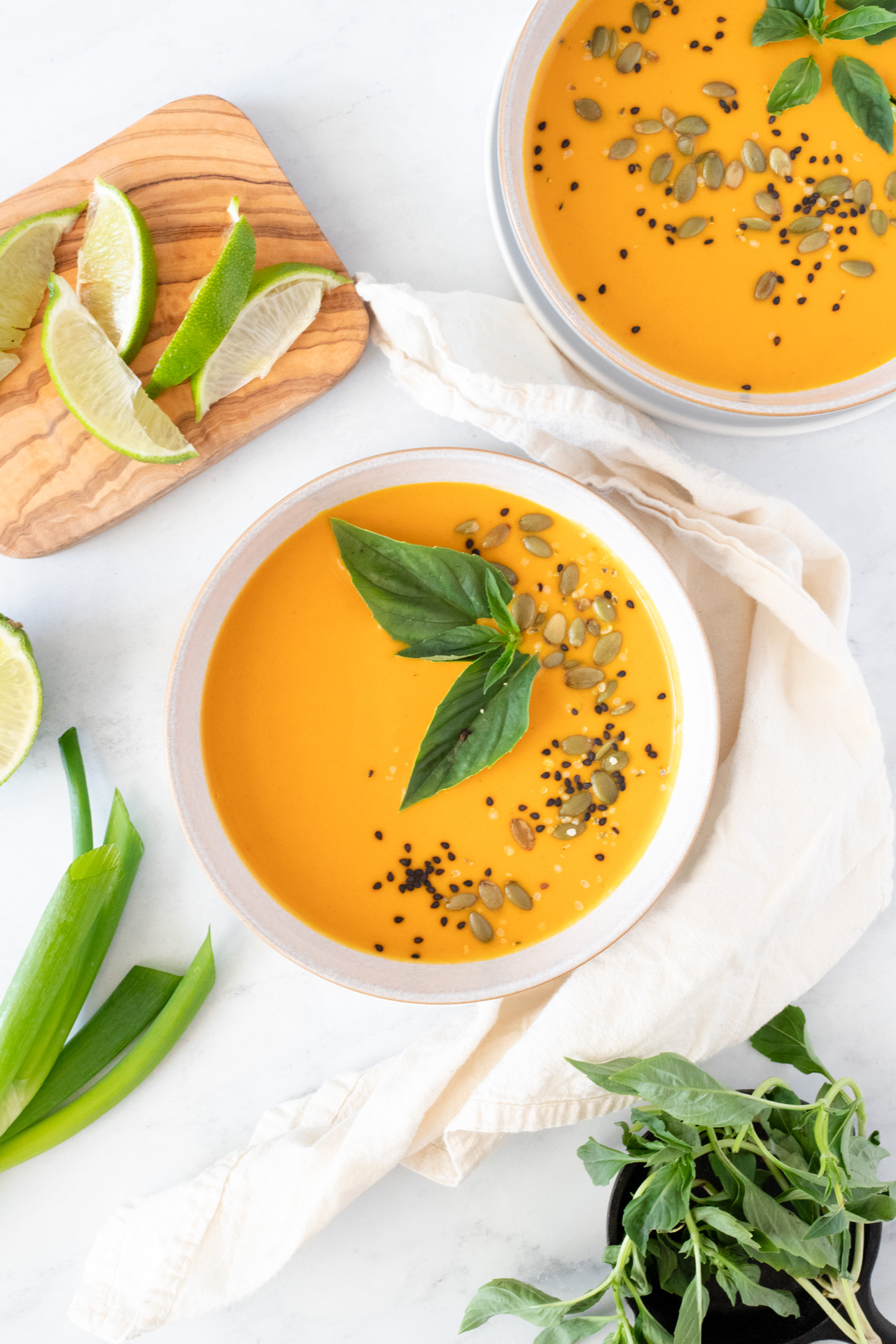 Ingredients to make Roasted Butternut Squash Coconut Curry Soup
Butternut Squash — This buttery, nutty, sweet, antioxidant-rich winter squash is amazing in soups, especially when paired with coconut milk and curry. It's high in vitamins A and C thanks to carotenoids that also give it it's amazing bold colour.
Carrot — Provide an earthy sweetness, and… you guessed it, carotenoids! (Was it the bright orange colour that gave it away?)
Fresh Ginger — Get that anti-inflammatory goodness working its magic within your body. Ginger Tip: I like to store my ginger root in the freezer, it keeps for longer and makes it easy to grate into soups and salad dressings.
Red Curry Paste — Adds flavour, warmth and antioxidants to this cozy soup. For the best health benefits, look for a curry paste that is minimally processed, low in salt and doesn't contain any additives or preservatives. I like to use Thai Kitchen's red curry paste (not sponsored, I just really like it!).
Coconut Milk — Don't you just love the combination of coconut milk and curry? Not only does coconut milk add a satisfying creaminess to this dish, but it also adds anti-inflammatory, anti-microbial and anti-fungal properties — helping to keep your gut flora in check, your immune system strong, and your body feeling great.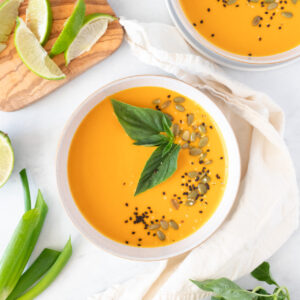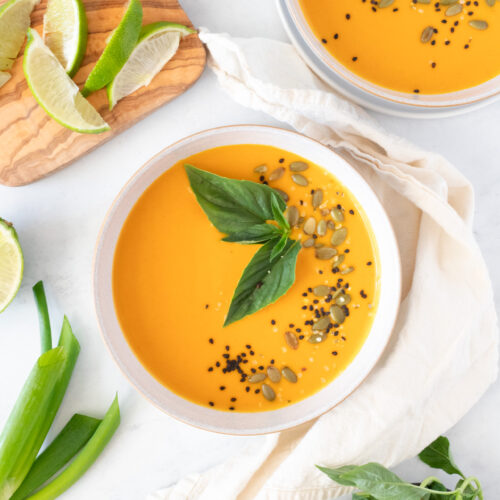 Roasted Butternut Squash Coconut Curry Soup
Warm + cozy with a little hit of spice. This Roasted Butternut Squash Coconut Curry Soup is quick and easy, the perfect pick-me-up on a cold day.
Ingredients
1

tbsp

Coconut Oil

divided

2

cups

carrot

diced, skin-on

3

cups

butternut squash

peeled and diced into half-inch squares

1

large yellow onion

diced

2

cloves

garlic

minced

1

tbsp

fresh ginger

grated

2

tbsp

red curry paste

2

cups

vegetable broth

1

14oz

can of coconut milk

Sea salt + fresh ground pepper

to taste
Instructions
Pre-heat over to 420 degrees F.

On a prepared baking tray toss the butternut squash, carrots, 1/2 tbsp of coconut oil and a pinch of sea salt. Spread the squash/carrot mixture evenly on the baking tray and roast for 25-30 minutes until the squash starts to caramelize around the edges and is soft when pierced with a fork.

In a large pot add 1/2 tbsp of coconut oil and the onion, sautee on medium heat until the onions are translucent. Add the garlic, freshly grated ginger and curry paste, stir well and cook for another 1 to 2 minutes. Remove from heat and aside.

Add the roasted butternut squash and carrots to your pot with the onions and stir, coating the veggies with the onion curry mixture. Add the vegetable broth and coconut milk, stiring until the coconut milk is combined.

Transfer the soup to a blender (or use an emersion blender) and blend until smooth and velvety*. Pour the mixture back into the pot.

Simmer on low for 5 to 10-minutes — this helps develop the flavour of the soup.

To serve, top with fresh Thai basil, green onion, pepita seeds, black sesame seeds and a squeeze of fresh lime juice. Enjoy!
Notes
*Depending on the size of your blender, you may need to blend the soup in two batches. Be very careful when blending warm/hot ingredients, never fill your blender jug completely full and always have a way for steam to escape while blending.
This post may contain affiliate links, please see our privacy policy for details.
You might also like