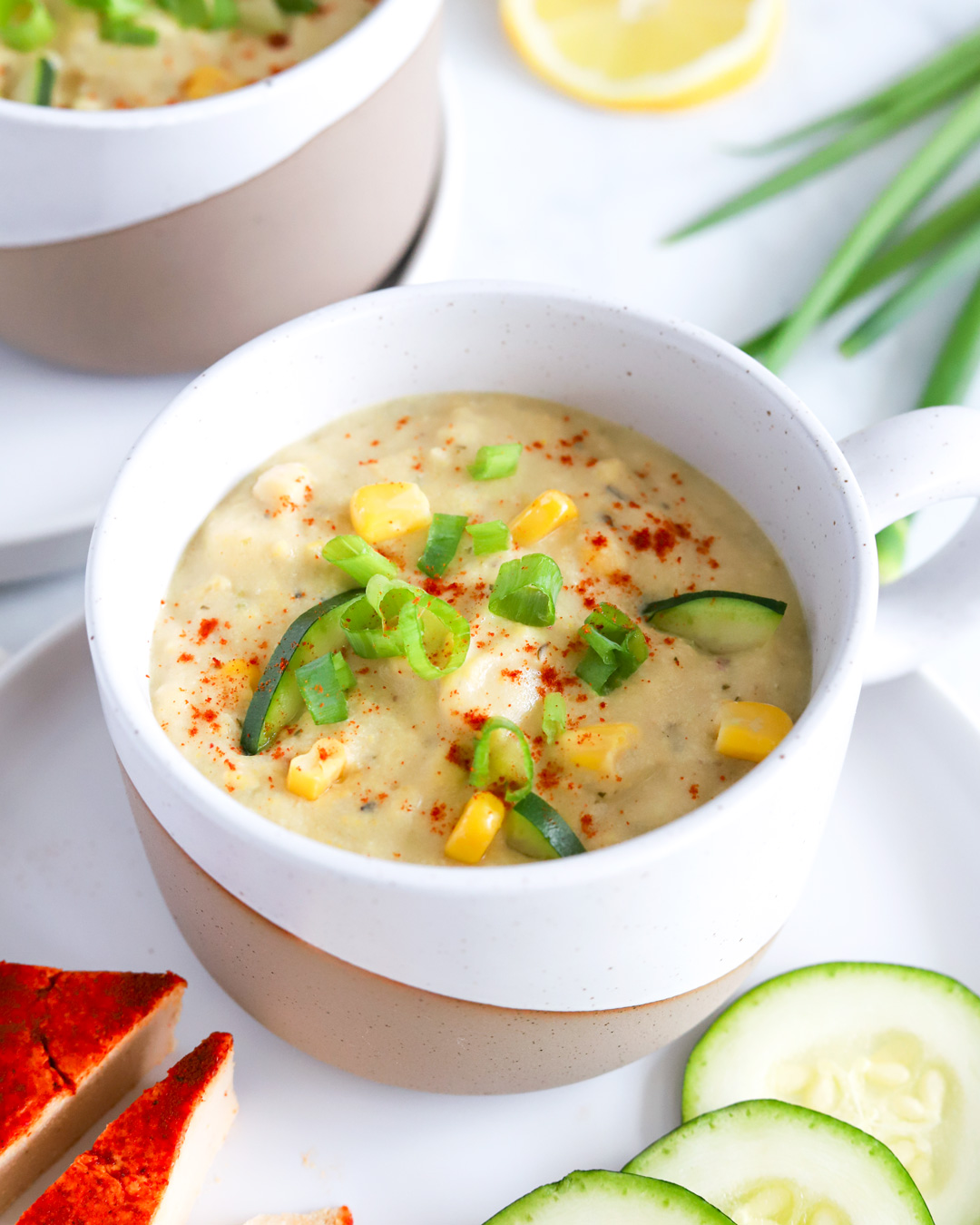 Creamy Corn + Zucchini Chowder
Zucchini Season Has Never Tasted Better
Move over zucchini bread, there's a new zucchini recipe in town! This Creamy Corn + Zucchini Chowder has to be my all-time favourite zucchini recipe. It's the perfect way to use in-season produce at its best and capture all those fantastic freshly harvested flavours.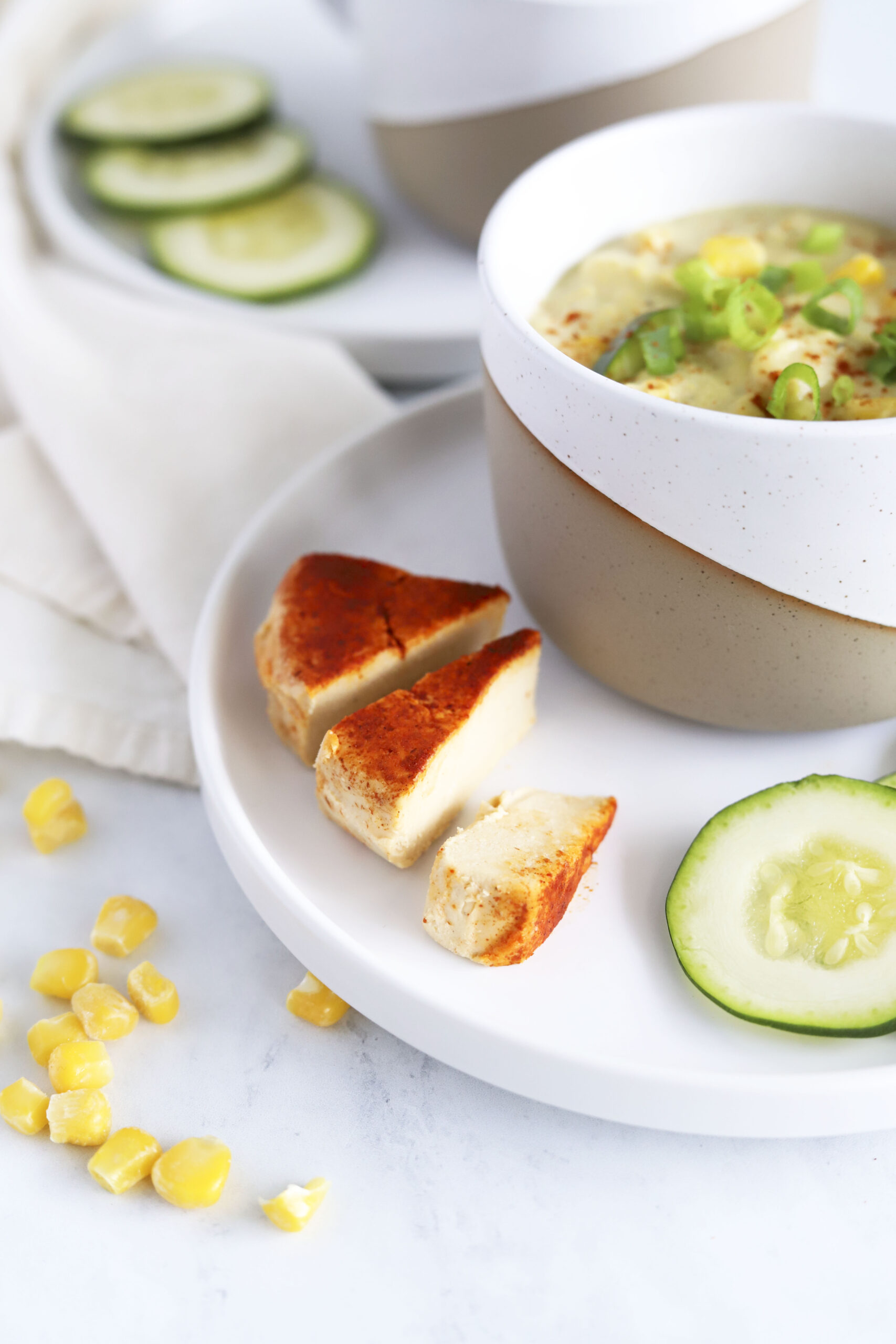 How do you make a plant-based chowder creamy?
The key to achieving a thick Creamy Corn + Zucchini Chowder:
Blend — Blending two-thirds of the soup in a blender makes this soup nice and creamy, but not overly rich.

Special Ingredients — Cashew cream, cashew cheese, and potatoes. These 3 ingredients really level up the creaminess of this chowder. At the same time, they play well with lighter ingredients, like zucchini and lemon, and complement their bright flavours. 
Ingredients to make Creamy Corn + Zucchini Chowder
Zucchini — Did you know that zucchinis are technically a fruit? And a versatile one at that! So many healthy dishes and baked goods can be made with zucchini. It's a great source of both soluble and insoluble fibre, which keeps your digestive tract healthy and can even help regulate blood sugar and cholesterol levels. When cooked, zucchini is a great source of vitamin A which helps support your vision and immune system.
Corn — The sweetness of fresh corn really complements the light, slightly tart flavour of zucchini. You can use frozen corn, but I highly recommend fresh corn when it's in season. Quality is key when it comes to selecting corn, not only for flavour but for your health as well. To weed out pesticide exposure (a known carcinogen), I like to buy organic corn whenever possible, this also ensure I'm getting the best bang for my buck in terms of nutrient density… Not to mention, Mother Earth will thank you too!
Red Potatoes — Potatoes are a chowder staple and for good reason, they're tasty and provide hearty substance to any dish. They're also a great source of many vitamins and minerals like vitamin C, B6 and potassium. Potato Tip — Keep the skins on — Fruit and vegetable skins are even more nutrient dense than their flesh, so skip the peeler and give those skins a good scrub.
Cashews — A plant-based cook's secret weapon for the ultimate creaminess. Cashews have a somewhat neutral flavour and can be soaked, and blended to reach a cream-like consistency. Like most nuts, cashews are high in essential minerals and healthy fats, you can find a significant amount of copper (essential for energy production + brain development), magnesium and manganese in cashews.
Cashew Cheese — Look for a brand that tastes great and uses simple, clean ingredients — no fillers or harmful preservatives. Bonus points for cultured or fermented cheese!
Nutritional Yeast — One word, umami. Nutritional yeast is a classic vegan ingredient for umami, with its slightly cheesy flavour and rich nutrient profile (hello B12!), it's a no-brainer for any creamy, savoury dish.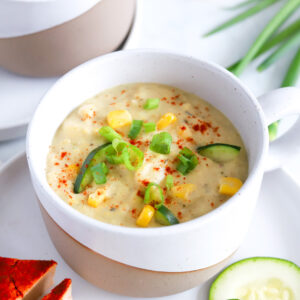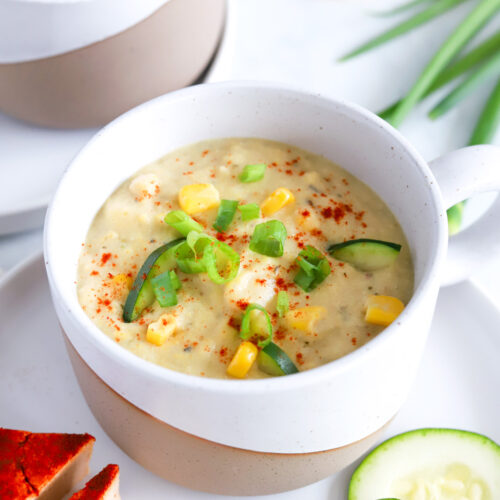 Creamy Corn + Zucchini Chowder
This Creamy Corn + Zucchini Chowder hits the perfect harmony between a hearty chowder and a light gazpacho. Warm, satisfying, and bursting with late summer flavour.
Ingredients
2

tbsp

olive oil

1

yellow onion

diced

1-2

medium zucchini

sliced lengthwise into quarters and then diced

5

cups

yellow corn kernels

fresh or frozen

3

cloves

garlic

minced

2

tbsp

fresh thyme

2

medium red potatoes

diced small

4

cups

vegetable broth

1

cup

cashew cream

see below

½

wheel of cashew cheese

I used smoked paprika cashew cheese

1/2 - 2

tsp

smoked paprika

or to taste depending on your heat preference

1/4

cup

nutritional yeast

1/4

of a fresh lemon

juiced

Salt and pepper

to taste

2

tbsp

chives

finely chopped (optional)
Cashew Cream
1

cup

raw cashews

soaked in hot water for 15 mins

1/2

cup

filtered water
Instructions
In a medium-sized heat-proof bowl add the raw cashews. Pour hot water over the cashews until covered and soak for 15 mins.

In a large pot add the olive oil and onion, cook over medium heat until the onions are translucent. Add the zucchini and cook for another 5 minutes. Add the corn, garlic and thyme to the pot, cook for 3- 5 more minutes until fragrant.

Add the potatoes + vegetable broth. Bring to a boil and simmer for 10-15 minutes until the potatoes are soft.

While the soup cooks, drain the cashews and add them and the filtered water into a blender. Blend on high until very creamy and smooth. Remove form the blender and set aside.

Transfer 2/3 of the chowder to the same blender jug (no need to clean it) and blend until smooth. Return the blended chowder to the pot. Stir in the cashew cream, cashew cheese, nutritional yeast + paprika. Simmer for another 5 mins.

Add the lemon juice, and salt + pepper. Serve topped with chives and a drizzle of olive oil. Enjoy!
Notes
I used Fauxmagerie Zengarry's Smoked Paprika cashew cheese in this recipe, but feel free to use a cashew cheese of your choice (I've also used brie-style cashew cheese) and it was delicious. 
This post may contain affiliate links, please see our privacy policy for details.
You might also like