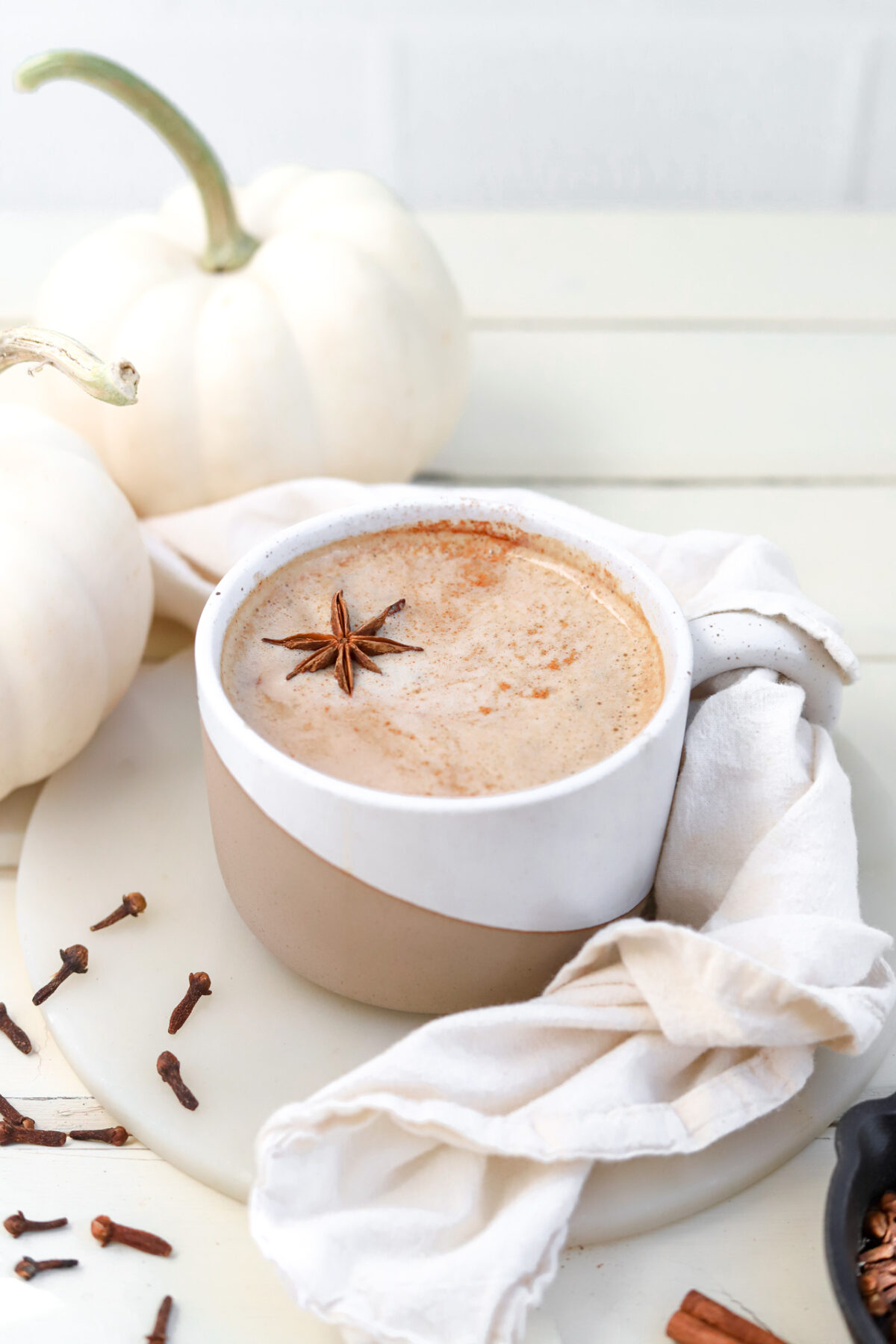 Pumpkin Spice Oat Milk Latte
How to make a Healthy Pumpkin Spice Latte
REAL ingredients — This dairy-free pumpkin spice latte recipe is full of REAL spice, REAL pumpkin and REAL health benefits. It's creamy and cozy with a hint of sweetness — sans artificial colours, flavours, sweeteners or additives (sorry Starbucks).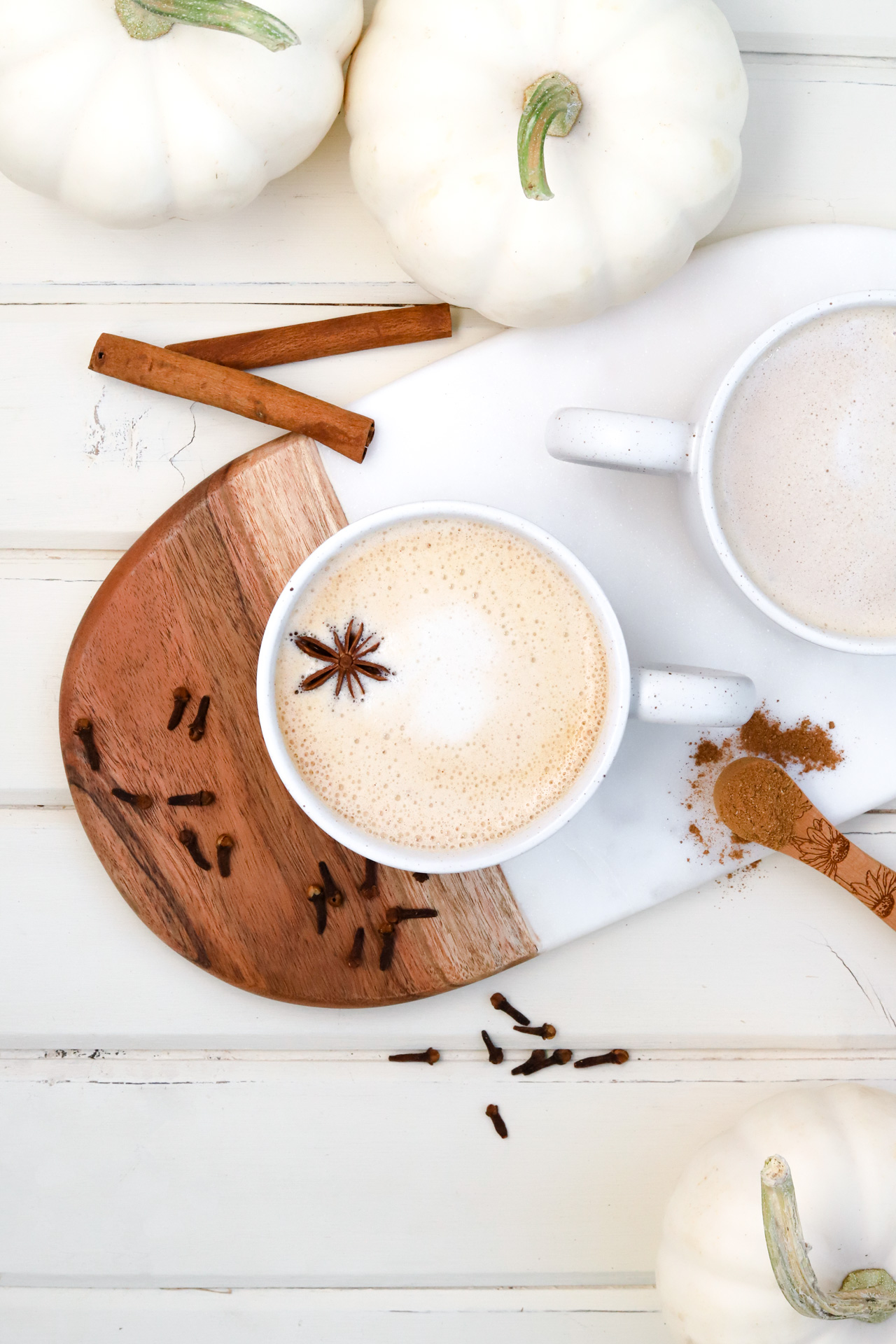 What ingredients do I need to make a Pumpkin Spice Oat Milk Latte?
Oat Milk — IMO the best milk for a latte. Tip — Choose a plant-based milk that's free from preservatives and binders like carrageenan. These added ingredients help keep the milk from separating, but they may also cause stomach upset over time. Look for a product like Earth's Own Naked Oat Milk, made with just four ingredients!
Pumpkin Puree — A pumpkin spice latte with REAL pumpkin! Pumpkins really are under rated when it comes to their health benefits. Pumpkins contain a variety of vitamins and minerals like carotene (vitamin A), vitamin C, vitamin E, iron, folate, potassium, and fibre. Adding a couple tablespoons to your latte will help amp up your nutrient intake for the day.
Pumpkin Spice — So many wonderful spices wrapped up into one special quintessential autumn flavour. Cinnamon, ginger, cloves, allspice and nutmeg are combined to create a mixture high in antioxidants, vitamins, and minerals.
Maple Syrup — My autumn go-to for a natural vegan sweetener. Look for pure maple syrup and read the ingredient label to make sure you're not purchasing maple-flavoured corn syrup, yuck!
Vanilla — To round out the flavour of this favourite fall drink.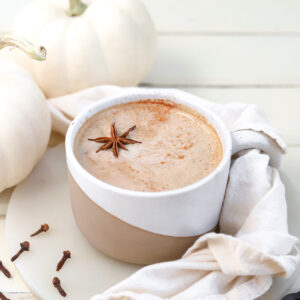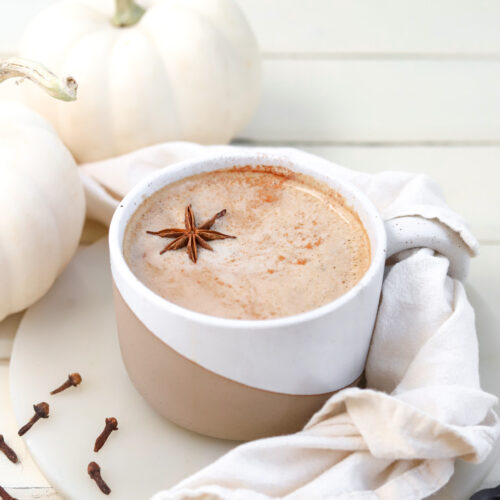 Pumpkin Spice Oat Milk Latte
Only the good stuff makes it into this cup of comfort. All that pumpkin spice warmth and happiness you've come to love, homemade with real whole food ingredients.
Ingredients
For the Latte
2

tbsp

pumpkin puree

1

tsp

pumpkin spice

½

tbsp

maple syrup

¼

tsp

vanilla extract

1-2

shots of espresso or strong brewed coffee
Pumpkin Spice
1

tbsp

cinnamon

1

tsp

ground ginger

1/2

tsp

ground cloves

1/2

tsp

ground all-spice

1

tsp

ground nutmeg
Instructions
In a small bowl whisk together the pumpkin puree, pumpkin spice, maple syrup and vanilla extract. Add the hot espresso and whisk until smooth.

Froth or steam the milk.

Pour the pumpkin espresso mixture into a mug and add steamed milk. Stir well + enjoy!
Notes
Feel free to use decaf espresso/coffee, or if you're not a coffee fan omit it altogether, this recipe will be just as delicious without it.
This post may contain affiliate links, please see our privacy policy for details.