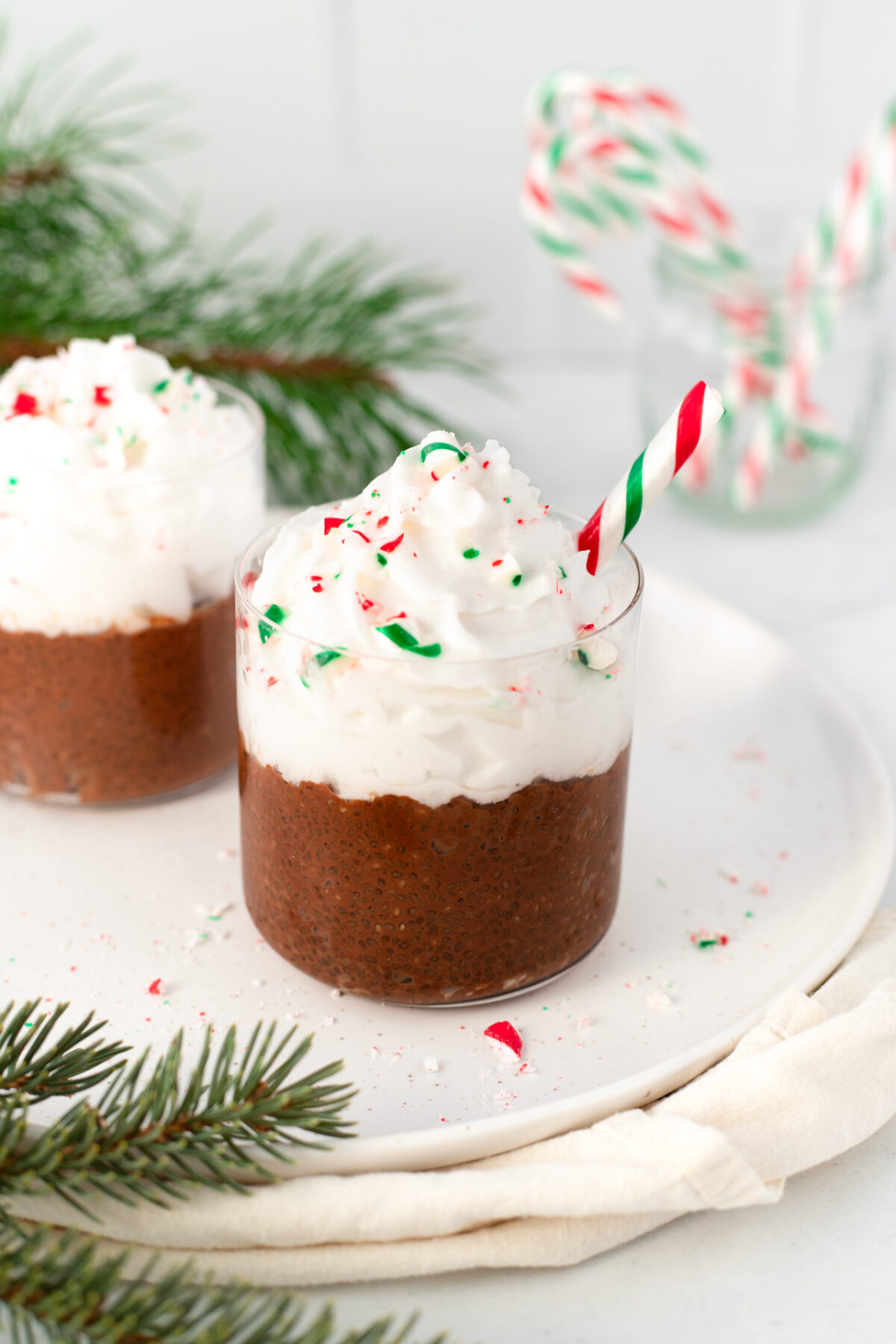 Creamy and chocolatey with a hint of peppermint this Peppermint Hot Chocolate Chia Pudding tastes like it's straight from Santa's kitchen.
Perfect for a quick, healthy holiday breakfast on the go or triple the recipe (or more) and serve it family style in a festive bowl at Christmas brunch! Don't forget the coconut whip and crushed candy cane sprinkles.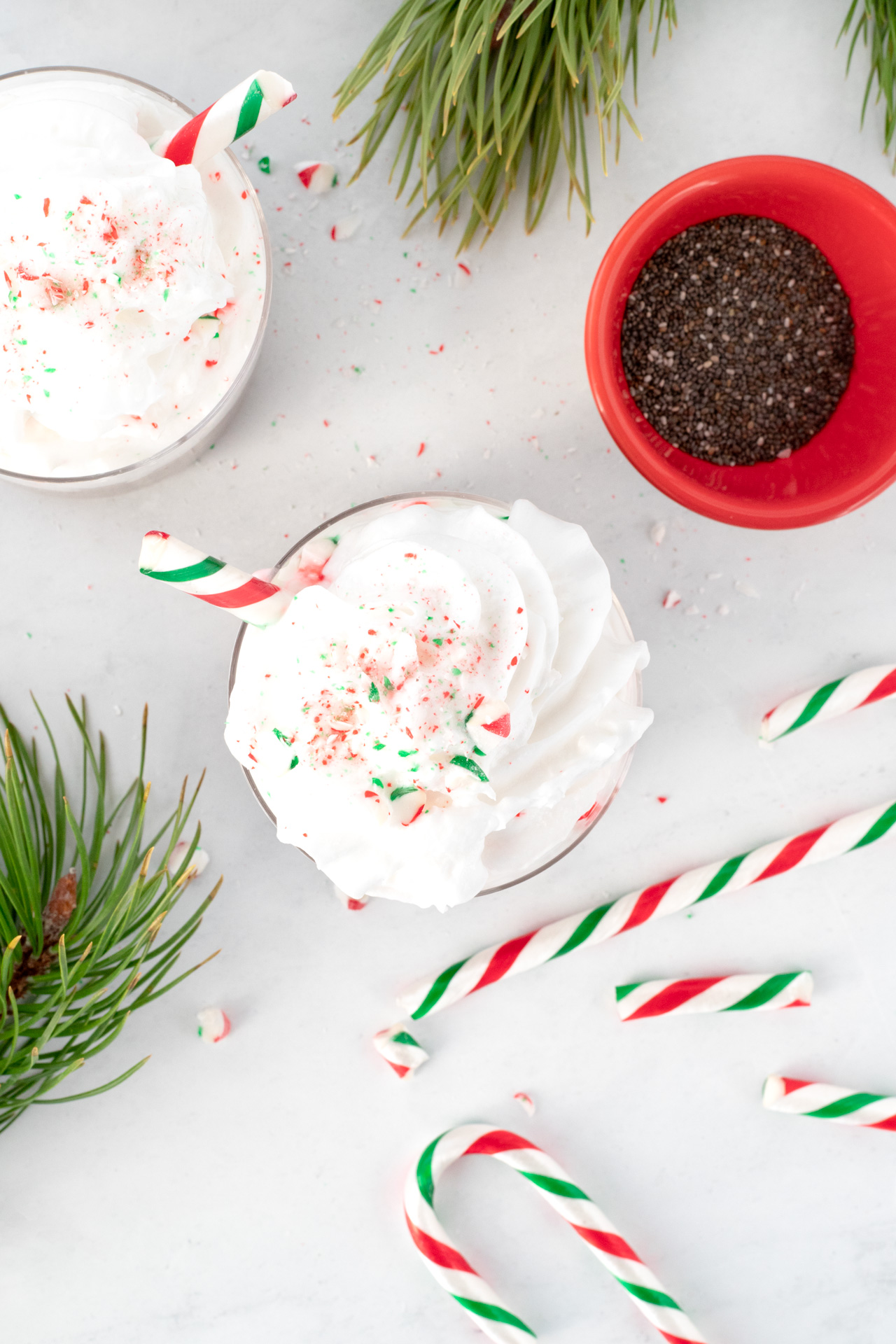 Did anyone else watch that Tim Allen Christmas movie when they were a kid? You know, the one where he plays Santa… Well for some reason, whenever I drink peppermint hot chocolate I think of a scene in that movie where the elf gives the little kids a cup of hot chocolate and says "shaken, not stirred". 
To this day that phrase makes me picture a creamy, oh so delicious, cup of the best hot chocolate ever invented (I mean come on, if Santa loves it, then it must be the best hot chocolate ever). Anyway, that was my aim with this Hot Chocolate Peppermint Chia Pudding recipe, something Santa would approve of, but with a healthy holiday breakfast twist, and whisked… not stirred.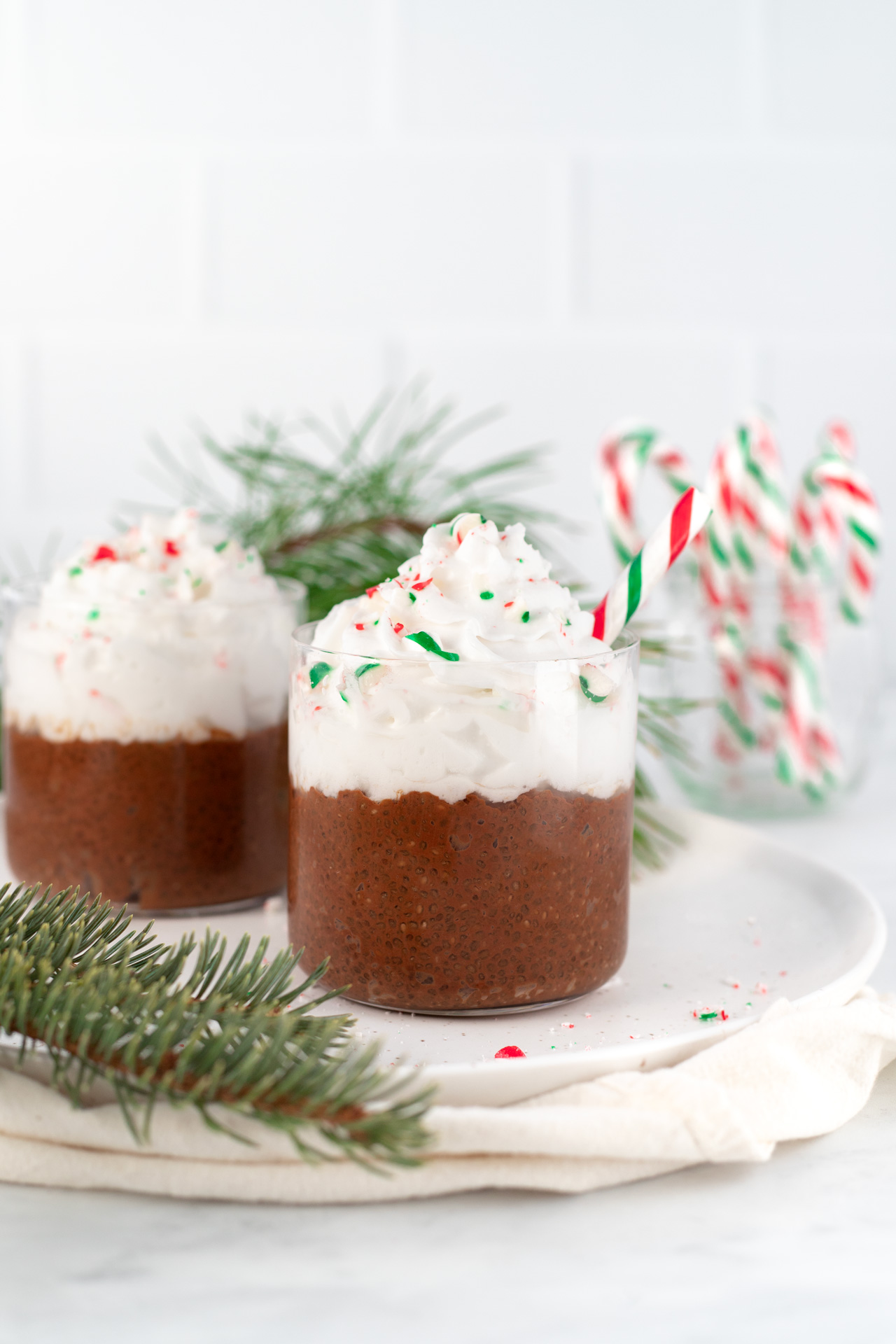 How to make Peppermint Hot Chocolate Chia Pudding
Chia pudding is super easy to make and this chocolate peppermint version is no exception. Add all of the ingredients into a bowl, whisk, and chill, it's that EASY!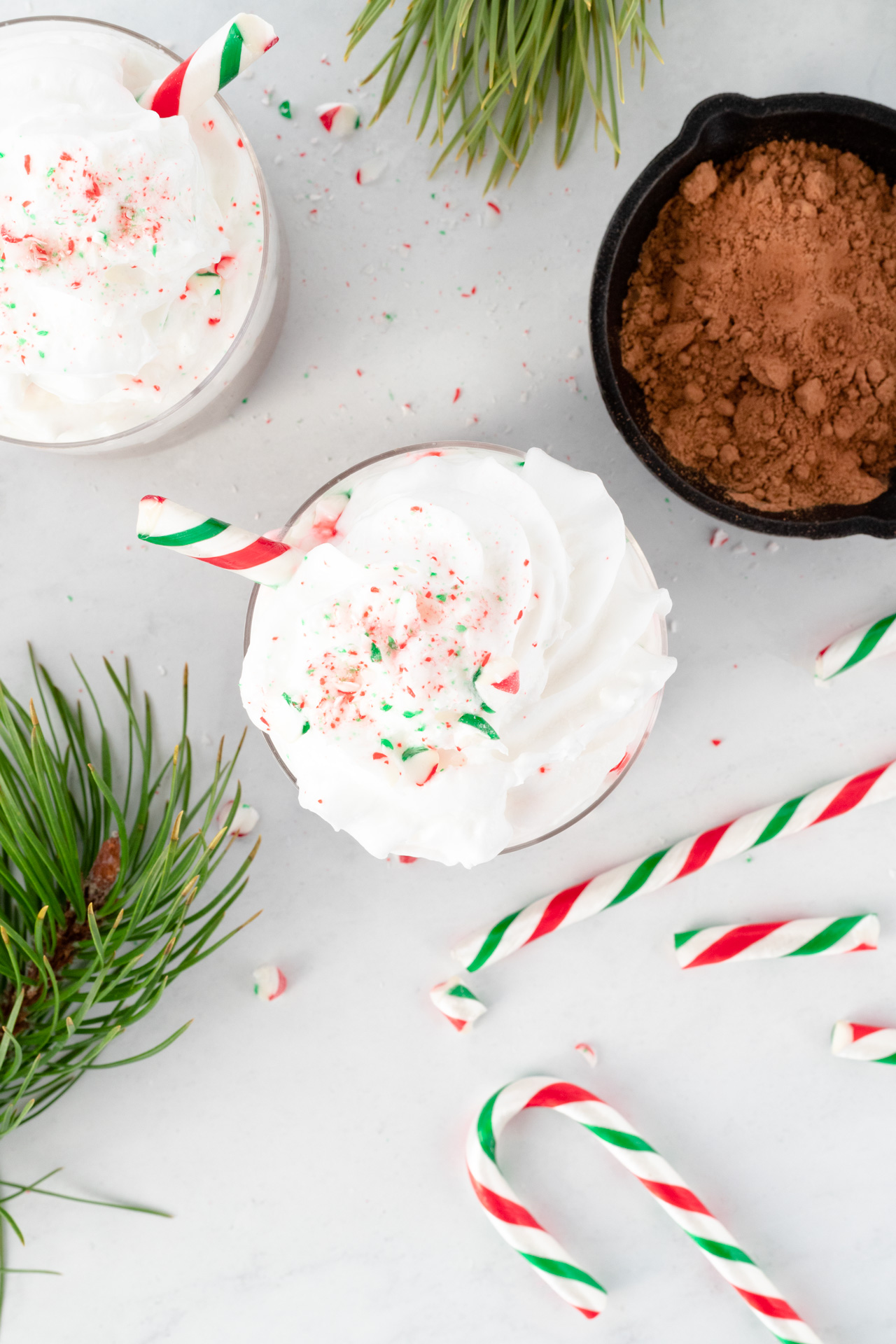 A healthy holiday brunch recipe your family won't forget!
Batch cooking this dish is almost as easy as making one serving. Feel free to triple, quadruple or even decuple chis recipe. Follow the same instructions as the single-serving recipe, but instead of transferring your chia pudding to a small cup or jar, let it chill overnight in a fancy festive bowl. When you're ready to serve, top with a generous amount of whipped coconut cream and a sprinkle of crushed candy cane. This dish is sure to be your family's new holiday favourite!
Tip: If your chia pudding is a bit runny after sitting overnight, whisk in 1 tbsp of chia seeds and let it sit for 20 mins, repeat until you reach the proper consistency.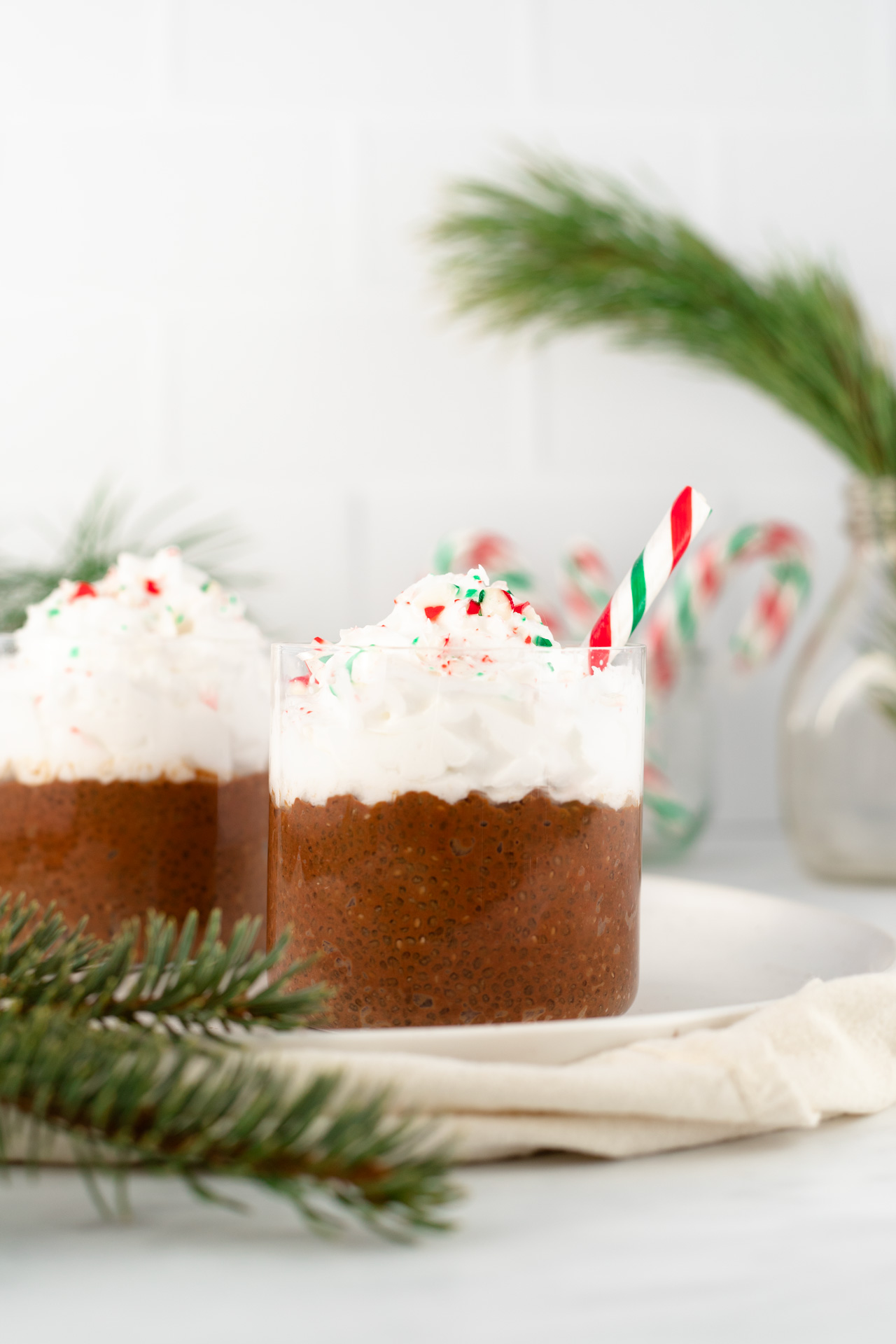 Ingredients for making Peppermint Hot Chocolate Chia Pudding
Oat milk — If you're not an oat milk fan you can use any milk of choice, but I love the creamy consistency of oat milk for this recipe. 

Coconut cream (optional) — This is an optional ingredient, but I highly recommend it as it gives this chia pudding just a touch of decadence, without being overly heavy. 

Raw cacao — Coco's superfood sister. Raw cacao might be less popular, and less processed than traditional cocoa, but it's totally worth paying attention to! The main difference between cocoa and raw cacao is that cocoa goes through extensive processing at a high heat causing it to lose many of its beneficial nutrients. Raw cacao on the other hand goes through minimal processing and retains most of its healthful nutrients. It's 40 times high in antioxidants than blueberries, is high in iron, magnesium and calcium, and has been know to work as a mood booster — No wonder it's labeled a superfood!

Maple syrup — Every holiday treat needs a little hint of sweetness and maple syrup is the prefect match. 

Vanilla — Vanilla is the secret ingredient in anything peppermint flavoured, it's what keeps the peppermint extract under control so it tastes perfectly pepperminty and not like toothpaste. 

Peppermint Extract — Be sparing with your peppermint extract — too much and you'll think you're at the dentist, too little and the flavour will be lost in a sea of chocolate. 

Chia seeds — The mighty chia seed! Packed with fibre, protein, omega-3 fatty acids, and many essential vitamins and minerals.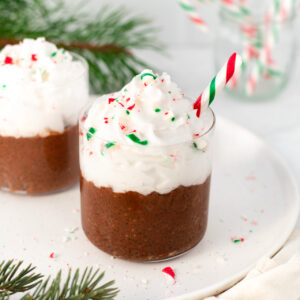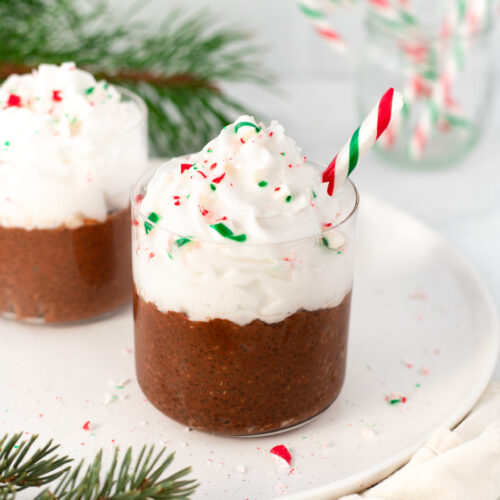 Peppermint Hot Chocolate Chia Pudding
Creamy and chocolatey with a hint of peppermint this Peppermint Hot Chocolate Chia Pudding tastes like it's straight from Santa's kitchen.
Ingredients
1/2

cup

oat milk

1

tbsp

coconut cream

optional

1 1/2

tbsp

raw cacao

or cocoa in a pinch

1

tbsp

maple syrup

1/2

tsp

vanilla extract

1/8

tsp

peppermint extract

1/4

cup

chia seeds
Instructions
Add all the ingredients except the chia seeds into a medium sized bowl and whisk until creamy.

Add the chia seeds and whisk until combined.

Pour into a jar and chill for at least 2 hours or overnight.

Optional: Top with whipped coconut cream and crushed candy cane.
This post may contain affiliate links, please see our privacy policy for details.