One-Pot Vegan Chilli
How to Make One-Pot Vegan Chilli
One pot is all you need for this homemade vegan chilli
Feel free to cook this chilli up in a crock-pot, slow cooker, stock pot, dutch oven or in a cauldron over an open flamed fire (jk). Once all the ingredients are added to your pot just sit back and let it simmer.

Vegetables + vegetables + more vegetables
Vegetable lovers, this is the chilli for you! I've used a ton of veggies in this vegan chilli recipe and they complement each other perfectly. We have tomatoes for the base of this recipe, sweet potatoes for a sweet creaminess, corn, peas, bell peppers, carrots, celery…  garlic and onion.

Where do you get your protein?
This recipe is full of protein, from veggies yes, but also from beans! I use chickpeas and black beans to make this vegan bean chilli hearty and full of plant-based protein. I've also used TVP (texturized vegetable protein) which is made from soya beans and gives this recipe its meaty texture (similar to ground beef). 

Spice it up!
The flavour that makes chilli soo damn good. I love to use a generous amount of chilli powder, coupled with cool-flavoured cumin, and a dash of paprika to bring this recipe to life. If you like heat, then feel free to add more chilli powder or even a little cayenne pepper. 

Don't forget the toppings
I think the toppings you choose on your chilli are just as good as the main event. I love to top this vegan chilli with plant-based parmesan (ground almonds + salt + nutritional yeast), fresh jalapeno, avocado, dairy-free sour cream and green onion.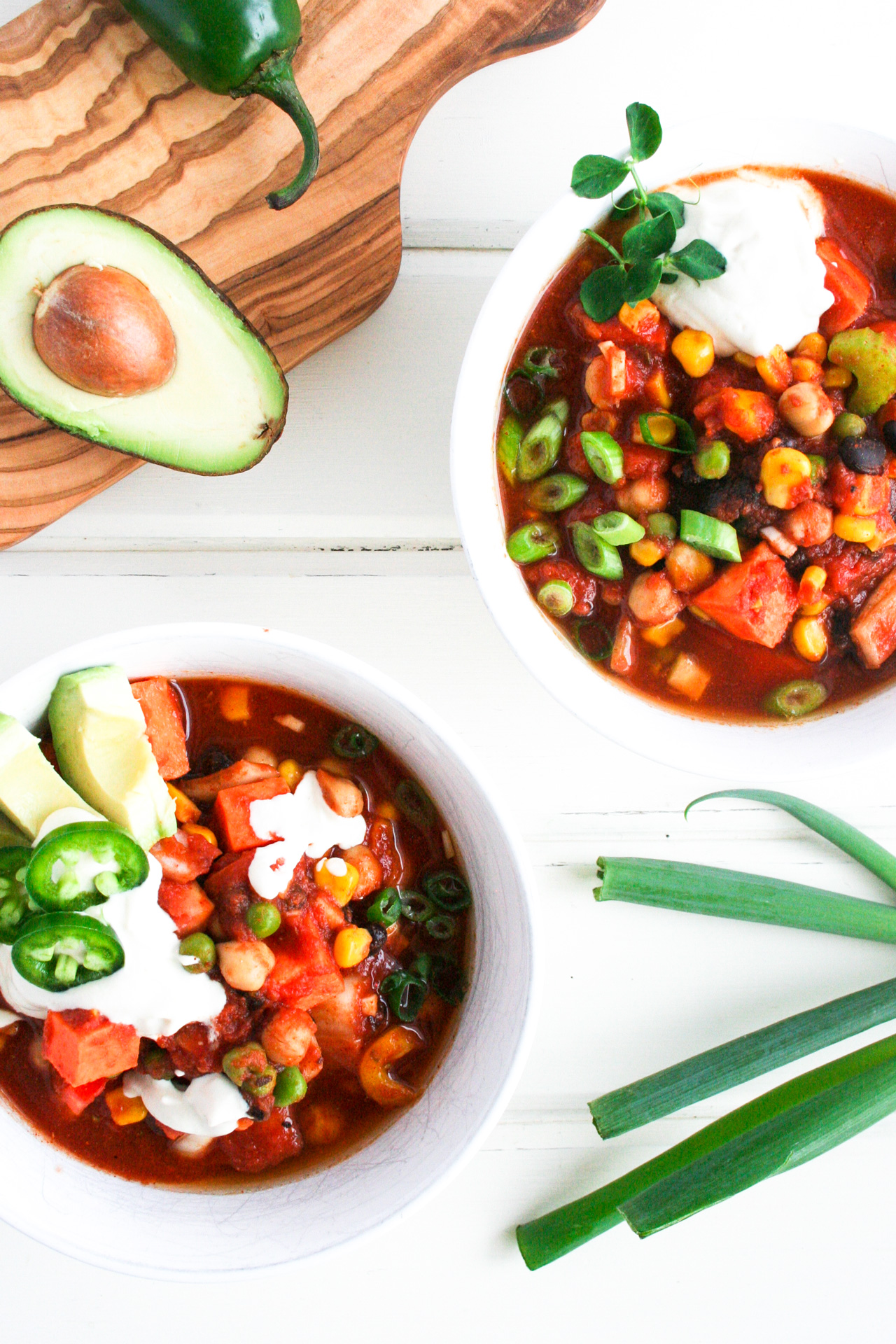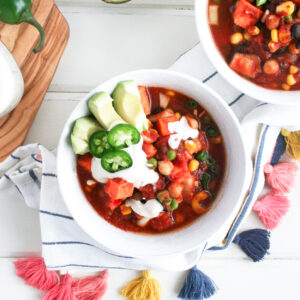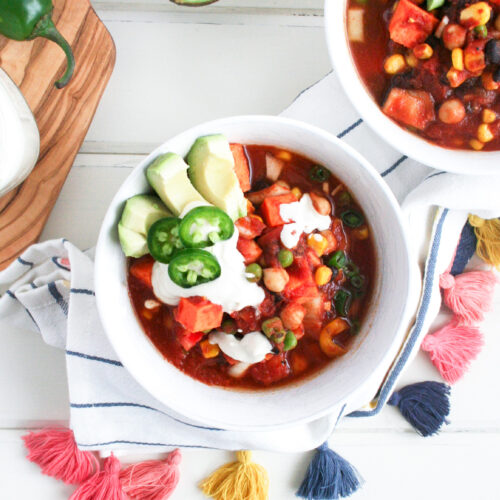 One-Pot Vegan Chilli
This One-Pot Vegan Chilli is so good that even your most dedicated meat-eating friends won't be able to tell the difference. This is the best vegan chilli recipe for a cold fall or winter night, hearty, healthy, and full of warm cozy feels. 
Ingredients
1

large onion

diced

4

cloves

garlic

minced

2

cups

corn

fresh or frozen

1

cup

green peas

fresh or frozen

1

red bell pepper

diced

1

yellow bell pepper

diced

2

large sticks of celery

diced

2

medium carrots

diced

1

medium sweet potato

diced

1

- 14oz

can chickpeas

drained + rinsed

1

- 14oz

can black beans

drained + rinsed

1

- 28oz

can crushed tomatoes

2

medium fresh tomatoes

any variety, diced

1

- 156 ml

can of tomato paste

2

cups

vegetable broth

1

cup

TVP

(texturized vegetable protein)

2

tbsp

chilli powder

2

tsp

cumin

1

tsp

oregano

½

tsp

paprika

sea salt and pepper

to taste
Topping (optional):
Avocado

Dairy-free sour cream

Fresh Jalapeño

Nutritional yeast or vegan cheese

Fresh lime juice
Instructions
Wash and dice all the veggies into bite-sized pieces. Rinse and drain the beans.

Add all the ingredients except the TVP into a crockpot, slow-cooked, or large stove-top pot, and stir until everything is combined.

If using a crockpot/slow cooker set it on low and cook for about 8 hours or set it on high for a 4-hour cook time (cooking time may vary depending on your crockpot). Alternatively, you can use an extra large pot over the stove -- see notes below.

Once the sweet potatoes are slightly tender and the vegetables are cooked through, add in the TVP and stir well. Simmer for another 10-15 minutes. If your chilli is looking too thick, add in half a cup of vegetable broth and cook for an additional 5 to 10 mins. If it's looking too thin, add in another 1/4 cup of TVP. Add salt + pepper to taste.

Top with your favourite chilli toppings, like avocado, sourcream, fresh jalapeño and a drizzle of olive oil and/or lime. Enjoy!
Notes
Stove Top:
For this version, add 1 tbsp of organic virgin olive oil to the pot along with the onion and garlic. Cook on medium-high heat until the onion is translucent, then add all the other veggies, stir and cook for 5 minutes. Add the rest of the ingredients except the TVP, bring to a boil and continue to simmer until the sweet potatoes are cooked through. I usually let my chilli cook for an hour to an hour and a half to develop a rich full flavour. Add the TVP and simmer for another 15 to 20 minutes.
This post may contain affiliate links, please see our privacy policy for details.