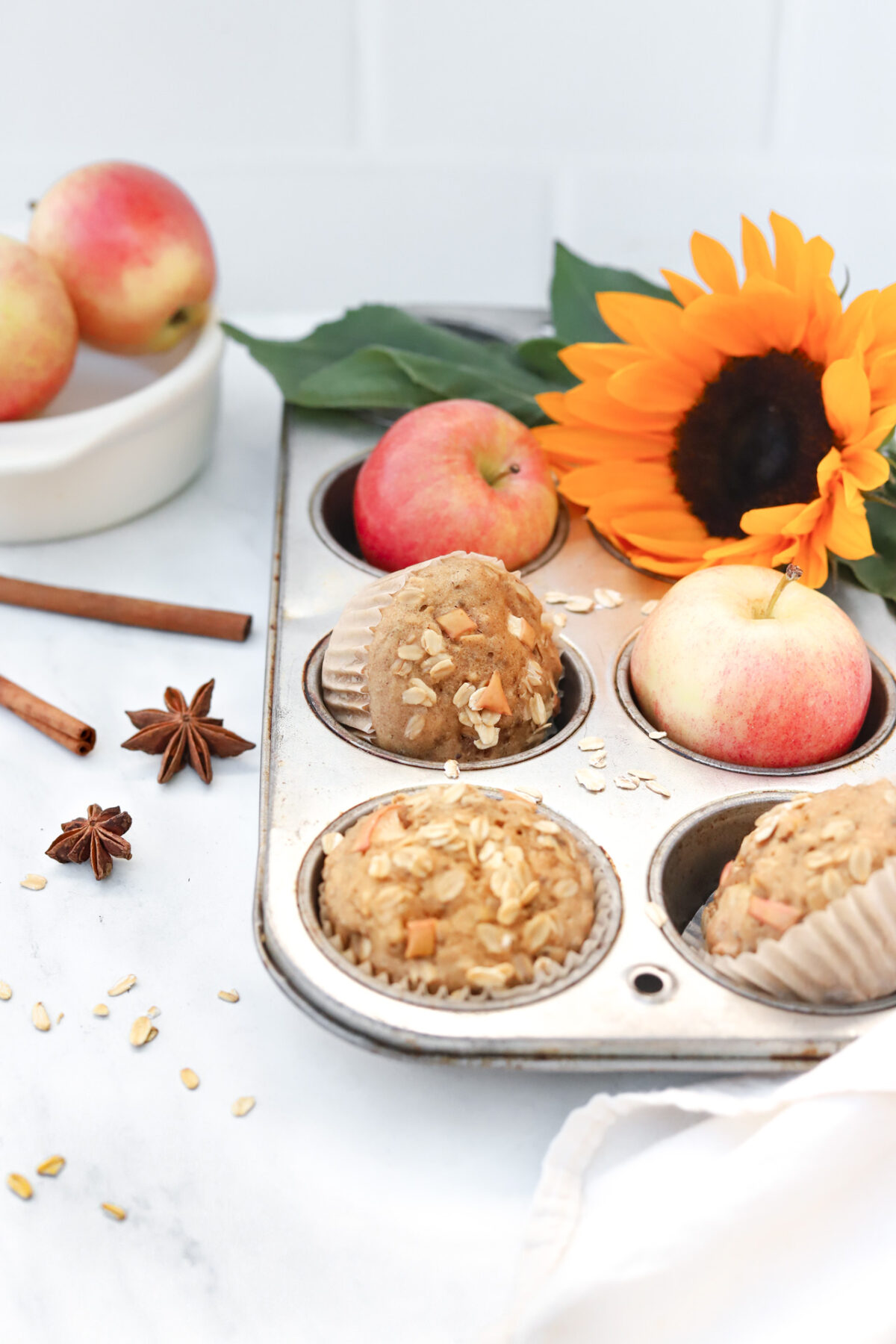 Autumn Apple Spice Muffins
What are Autumn Apple Spice Muffins?
These Autumn Apple Spice Muffins are a little bit fall season rolled into a wholesome snack. This recipe uses whole food plant-based ingredients creating a nutrient-dense (and tasty) muffin. That's right, no sugar bomb, post snack crash happening here!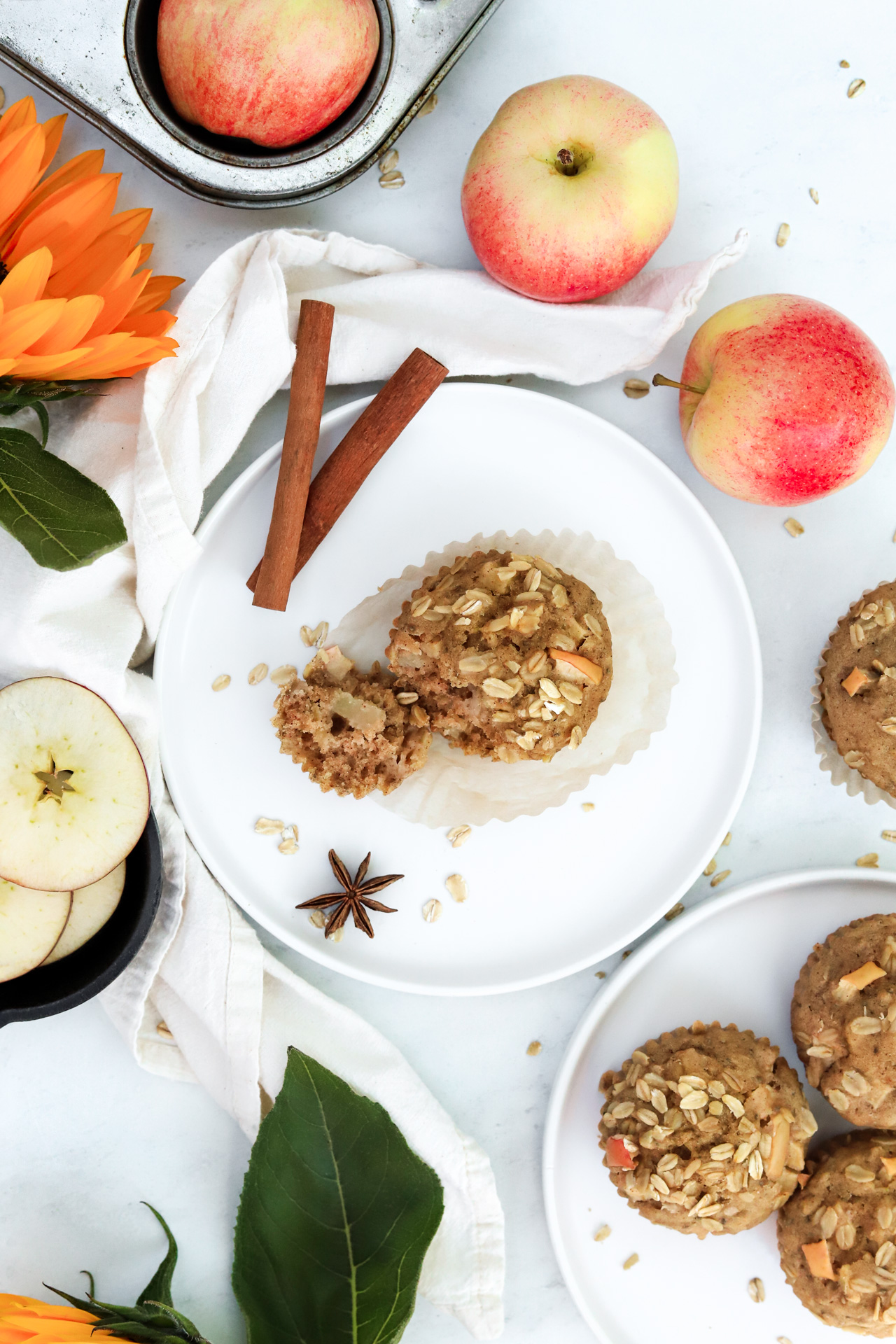 Ingredients for making Autumn Apple Spice Muffins
Apples — Who doesn't love an in-season sweet and juicy apple?! They're just so darn good and the perfect fall fruit. Apples are full of fibre which contributes to healthy digestion and cholesterol levels, and they're a good source of vitamin C which helps keep our immune systems (and bones) strong.
Cinnamon + Ginger — The perfect fall spices, warm and cozy with a little kick of heat. When paired with our fall fav the apple, it's a combination made for foodie heaven. Both cinnamon and ginger are great for fighting inflammation, and their anti-inflammatory properties are often called upon to reduce overall inflammation throughout the body, helping to relieve aches and pains. Ginger in particular is known to help reduce oxidative stress and inflammation within the cardiovascular, digestive, cognitive and endocrine systems.
Spelt Flour + Coconut/Cane Sugar — Less processed equals more nutrients and less crap. The same goes for organic flour and sugars, it's worth the extra cost to have a more nutrient dense food thats good for you and the planet!
Chia Seeds — This super seed is not only rich in antioxidants, minerals, fibre and omega-3s, but it's also a replacement for eggs in plant-based cooking. It's as easy as [ 1 chia egg = 1 tbsp chia seeds + 2 1/2 tbsp water ].
Apple Cider Vinegar — A little acid to help our star flavours (apple, cinnamon + ginger) really pop! Raw, unfiltered apple cider vinegar is full of gut-friendly bacteria (thanks to the fermentation process used to make it). This aids in a healthy digestive tract by killing off bad bacteria and re-populating your gut with good, digestion-friendly bacteria.
Coconut Oil — Great for adding moisture and a little coconutty sweetness to baked goods like muffins. Coconut oil may be a saturated fat, but don't let that fool you into thinking it's bad for your health. Coconut oil is a medium-chain triglyceride, a fat that is quickly used for energy (by your brain and body systems) instead of being stored by bodily tissue like long-chain triglycerides like canola or generic 'vegetable' oil). Coconut oil also contains lauric acid which has antimicrobial properties to help fight bacteria and infection.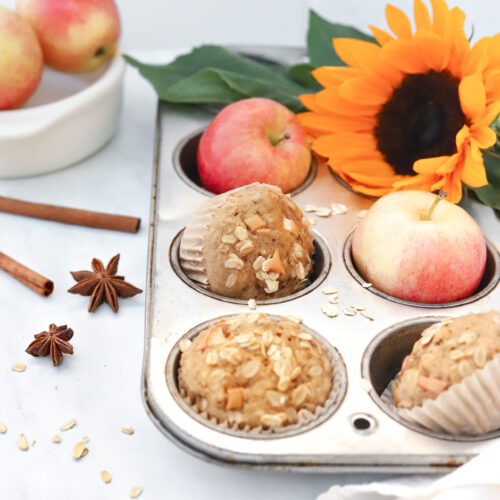 Autumn Apple Spice Muffins
These Autumn Apple Spice Muffins taste and smell like a cozy fall day, perfect for school lunches or paired with a cup of your favourite tea.
Ingredients
Dry Ingredients
2

cups

spelt flour

½

cup

rolled oats

1

tsp

baking powder

1/2

tsp

baking soda

1 1/2

tsp

ground ginger

1

tsp

ground cinnamon

1/4

tsp

salt

1/2

cup

coconut or cane sugar
Wet Ingredients
1

tbsp

chia seeds

2 ½

tbsp

water

1/3

cup

coconut oil

melted

1

cup

non-dairy milk

warmed

½

tbsp

apple cider vinegar

½

tsp

vanilla extract

1 ½

cups

apples

finely diced
Instructions
Preheat oven to 375°F and prepare a muffin tin.

In a medium sized bowl make a chia egg by combining 1 tablespoon of chia seeds with 2 1/2 tablespoons of water. Stir and let sit for about 10 minutes, the chia egg is ready when the seeds get all gelatinous and gooey.

In a large bowl, whisk together the spelt flour, oats, baking powder, baking soda, ginger, cinnamon, and salt. Set aside.

In a small saucepan warm the milk on low heat, then whisk in the coconut oil until melted, remove from heat. Add the milk + coconut oil mixture to the bowl with the chia egg and then add the vinegar and sugar. Whisk to combine.

Add the wet ingredients to the dry and stir well with a spatchular or wooden spoon. Fold in the apples.

Spoon the batter into the prepared muffin tin, filling each well 3/4 of the way full.

Optional: Top each muffin with a sprinkle of rolled oats + hemp seeds

Bake for 20-25 minutes, or until a toothpick when instered comes out clean.
Notes
Autumn Apple Spice Muffins will keep up to 5 days in an airtight container. 
This post may contain affiliate links, please see our privacy policy for details.